WP Profit Builder Review
Although getting targeted traffic and having a right sales funnel on place are the 2 most important parts of a profitable online business, but you should not ignore the role of a high converting web page at all. An appealing and powerful sales page or squeeze page is so important that many marketers are even willing to spend huge amount of money on web design and lead page creation.
What if I show you an amazing marketing site builder that enables you to build your own powerful WordPress websites with zero coding and for a fraction of the cost?! And don't worry, you don't need to be a web developer or designer at all!
Introducing WP Profit Builder…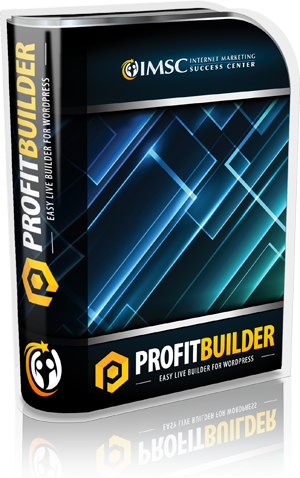 What is WP Profit Builder all about?!
In a nutshell, WP Profit Builder is an amazing WordPress plugin that allows users to create any kind of lead pages, sales pages, member portals, webinar pages, bonus give away pages and affiliate pages without even thinking about coding.
It is a powerful marketing site creation tool, made by Sean Donahoe, a respected Marketing Expert, Author and Speaker with a ton of successful products in the portfolio.
This one is a perfect plugin for any type of user to build attractive and high-converting websites in a matter of minutes.
Here are some of the main features of WP Profit Builder:
Create irresistible marketing pages that easily convert to massive profits
Add to any WordPress site with ANY theme and watch your profits boost
Drag and Drop LIVE editor for quick updates
50+ pre-done, proven marketing layouts for every need
50+ instant elements to enhance any page on your site
Quickly build all types of marketing pages with assured profitable results
Fully SEO and Mobile Optimized
Transforms your site into a mega profit center FAST
All this and tons more…
WP Profit Builder Demo Video
If you want to get a sneak peek inside the WP Profit Builder, then watch this helpful video and you'll find out why you too should get your hands on this wonderful tool:
Some Frequently Asked Questions About WP Profit Builder:
1. What are the requirements for WP Profit Builder?
This plugin is created to run on self-hosted WordPress sites only. You'll need at least WordPress 3.0+, PHP 5.2+ with Curl. 99.9% of good hosts meet or exceed these requirements.
2. Does it work with an existing WordPress theme?
Yes, you can either override your existing theme with WP Profit Builder custom pages or use pre-done themes in the system.
3. Is it possible to move one already-built layout to another website with WP Profit Builder on it?
Absolutely, you may only need to save your preferred layout as a template and then Export it as a zip file. You can then take the exported zip file and import into other website.
If you have further questions, I do recommend you to check out the WP Profit Builder Official Website and head over to the FAQ and Support section.
>>> Do Not Buy WP Profit Builder Until You Fully Read This Bonus Offer! <<<

WP Profit Builder Bonus Offer:
For a very limited time, if you purchase WP Profit Builder through this page, you'll receive an amazing bonus package including software, eBooks and video courses ($529 Value).
Just click on any link directing to WP Profit Builder here and order immediately. Then, send your receipt through Contact page clearly stating "WP Profit Builder Bonus Offer" and I'll be back to you with the link to download the bonuses.

P.S. WP Profit Builder is the REAL deal for any marketer and any need to create high converting web pages that boost your online profits. I highly recommend this awesome site creation tool and suggest you to check it out and see for yourself:
This amazing marketing page builder is currently in a very special pre-launch pricing but only for a limited time. This is your only chance to get it at this amazing price right now…