Do You Want To Generate Multiple Streams Of Income?
Well, I guess your answer is a big YES. You are here because you seriously want to generate massive income on the Internet and gain financial freedom. Well, let me tell you right off the bat that it's possible only if you are motivated. So, the very first thing you need is the right mindset. You want to create a web business and it all starts with making a profitable website.
Don't worry if you feel you know nothing about making websites! I didn't know from the first place either. But now, I've made tons of successful websites in different markets, generating passive income for me.
Even, if you already have your own website, you have to always learn more tips and tricks for getting better results from your own web pages. Maybe, you are not happy with your own website and want to build a site that works. In fact, you need someone who walks you through the whole process.
MakeaWebsiteNow.com is a complete step-by-step tutorial system about creating, running and managing your own website from scratch. It provides you with the straightforward information and guides you need to create a powerful and profitable website.
Who is behind MakeaWebsiteNow.com?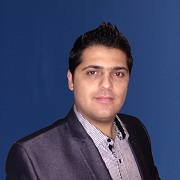 Hello, my name is Hooshmand Moslemi and I'm the guy behind MakeaWebsiteNow.com. I've been involved in online business since 2005 and so far, I have learned a lot of things such as Blogging, Domaining, Internet Marketing, Site Building, etc. A couple of profitable websites, blogs, and newsletters are a few examples of my online efforts. You can Google my name and see for yourself.
My main purpose of creating this website is to help people make their own websites from scratch and start generating online income. I'm going to teach you the vital basics of creating, running and managing your own web pages.
There Are 5 Important Steps You Should Know & Implement:
After spending a lot of time, money and efforts on building web pages, marketing, and monetizing, I have come up with a 5-step process for making successful websites. Believe it or not, you are only five important steps away from having a profitable and powerful website.
It is the very first step which you should not overlook and you have to spend a little bit time on it. But, this is the core of your project and determines your future moves, actions and success. Normally, this step consists of four important actions:
| | | | |
| --- | --- | --- | --- |
| A) Idea Generating | B) Planning | C) Researching | D) Niche Finding |
After you complete the step 1, you can go ahead and start building your website based on your goals, plans and research. This step is more technical and you need to implement your earlier learning and finding. It is also made up of four important and fundamental actions:
| | | | |
| --- | --- | --- | --- |
| A) Registering a Domain Name | B) Getting a Web Hosting Plan | C) Designing Your Website | D) Creating & Publishing Content |
It is the most overwhelming step of the whole process and probably the most difficult part, getting traffic. But, in my personal point of view, it is doable. In fact, if you exactly complete the previous steps, then you should not have any problem with marketing your website. Basically, marketing already began within the past steps and continues all the time. Although, there are literally, hundreds of different marketing methods, but I think it would be enough to only focus on the best ones. Here are a few examples:
A) E-Mail Marketing
B) Social Media Marketing
C) Search Engine Marketing (Pay Per Click Advertising = PPC)
D) Search Engine Marketing ( Search Engine Optimization = SEO)
It is the most beautiful part. Once you create your website and get traffic, you will be able to monetize the traffic and earn money. Actually, this step is associated with the first step, but since you won't make any money without traffic (The Marketing Step), I thought it would be wise if we put it after the Marketing step. Basically, there are only three main methods for monetizing your website:
| | | |
| --- | --- | --- |
| A) Selling Ad Space | B) Selling Your Own Stuff | C) Selling Other People's Stuff |
The last but not the least step is finding out your website traffic sources and monitoring your site performance and results. In fact, if you don't track your visitors and are not aware about the traffic sources, you cannot take the most advantage of your traffic and make profit to the greatest extent possible. So, this step should be done and consists of two important actions:
On this website, I am going to cover all the above-mentioned steps in my posts and articles and I will do my best to be as specific as possible and give valuable and to-the-point information.
That said, every effort will be made here in order to provide you good content. However, it does not necessarily mean that this website is the only perfect resource on the web when it comes to making profitable websites. The content should also be reviewed, updated and improved all the time. So, you are always welcome to share your comments, suggestions and opinions and feel free to contact us anytime!
To Your Success,
Hooshmand Moslemi, CEO of MakeaWebsiteNow.com